Obscene
Ideas
A workbook of daily prompts to inspire your erotic writing.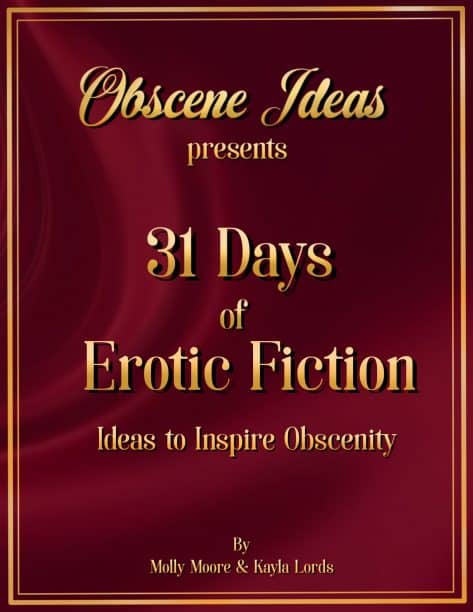 Need the inspiration to keep writing? Want to discover if you can write erotic fiction? Looking for your next sexy blog post or erotic novella idea? 31 Days of Erotic Fiction is exactly what you need to stay inspired, keep the smutty juices flowing, and give you obscene ideas.
Want to explore who you are as both a writer and a sexual being? Looking for prompts that make you think about yourself in new and different ways? Ready to develop an introspective writing practice? You need 31 Days of Self Reflection, the prompt workbook that asks you in-depth questions to help you see yourself in new ways.
At Obscene Ideas, we answer the most common question asked by erotic writers and sex bloggers: What do I write about? 
We provide prompts to help you write every day, every week, or whenever you need a little extra smutty inspiration and a few obscene ideas.
Kayla Lords and Molly Moore have come together to bring you a month's worth of sexy, smutty, and obscene ideas to unlock your creative juices. We want to be your partners on this journey as you unlock the stories inside of you. Our goal is to keep you inspired and writing consistently so you can reach your goals as a writer, whether you want to publish an erotic novel, become an award-winning sex blogger, or simply write your first sexy story.
The first workbook, 31 Days of Erotic Fiction, is only the beginning. Get ready for many more obscene ideas and smutty inspiration to come.
We are excited for all the smut waiting to be written, and we hope you are too!